CLOUD
YOUR FILES ON THE FREE LITTLE CLOUD
AND OPEN SOURCE OF ZACLYS
Cloud, collaborative work, Only Office online office suite and Nextcloud applications
With Zaclys Cloud service, take advantage of a cloud hosted in France and access your data wherever you are from the web, your computer, your smartphone, your tablet.
Also take advantage of Nextcloud's powerful online collaborative editing tool OnlyOffice and Nextcloud's application catalog.
Cloud solutions
for the family and for professionals
Zaclys offers shared servers for individuals and dedicated servers for professionals (institutions, local authorities, companies and associations)
+ our support offers for those involved in education and humanitarian activities.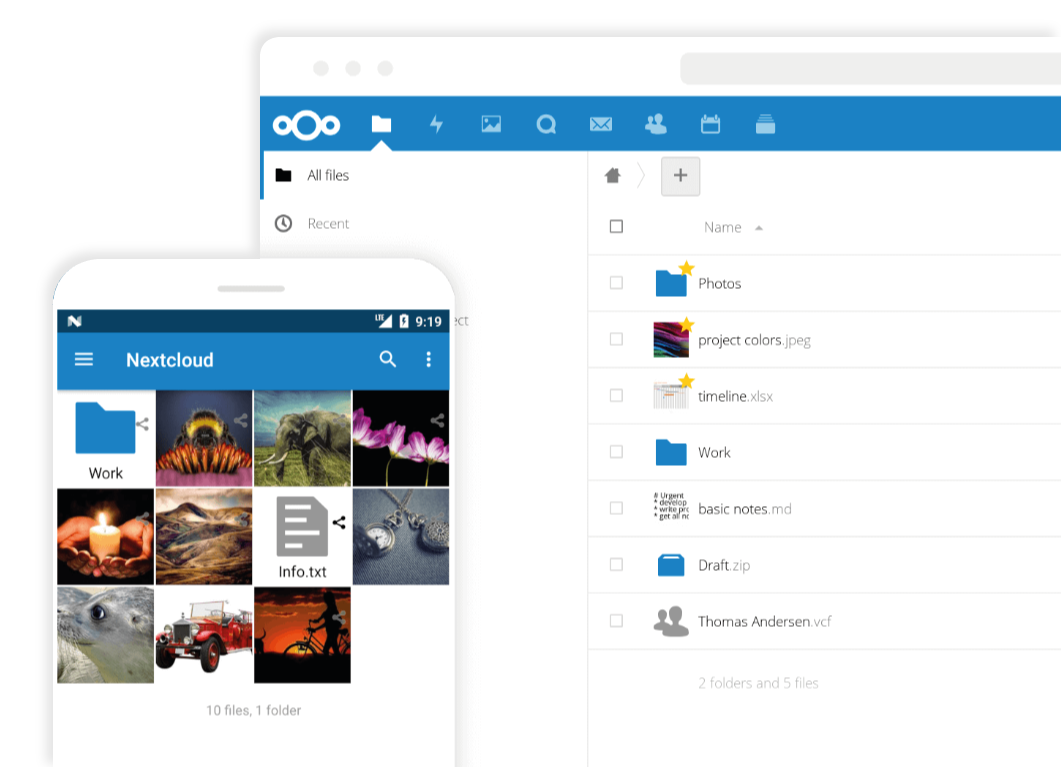 CLOUD? WHAT FOR?
With the Cloud service you can store and back up yourimportant files ,access your files, contacts, calendars and more from anywhere,shareyourfiles with confidence,work together on the same office document, folder or projectand synchronize it all to find it on the devices of your choice.
Test the Demo Cloud
You can test the Cloud Zaclys with the demo user account (user: test, password: test)
Attention, the demo servers are reset every night.
Nextcloud, the hyperactive Free Cloud with a professional design 
We chose this Free and Open Source Cloud solution because it is developed by an extremely active and competent team, which ensures rapid development and many new powerful features with each new version.
In addition, particular attention is paid to the design of this service with a flawless user interface. A strong point that directly propels this Cloud into the big league.
Nextcloud + OnlyOffice
= Collaborative Work & Office Suite
Nextcloud combined with the OnlyOffice Office Suite makes it a powerful collaborative work tool compatible with Office files. So don't wait any longer to free up your employees and opt for a solution that ensures the security and respect of your structure's data and your privacy!
The value of the Cloud – Examples of uses
The Cloud is mainly used to access one's data from several places or machines (fixed PC, laptop, tablet, smartphone, PC), this is called synchronization (and not remote access, we will see this nuance later). The two main types of data that one is led to want to synchronize are :
The media: files, photos, videos, music, various documents (text, spreadsheet, PDF, …)

Personal data: agendas (or calendars), contacts, web bookmarks (or favourites), tasks.
As an illustration of what we are talking about, let's take several examples showing the use of the Cloud :
My synchronized calendars at home and at the office

I created a "work" agenda on my PC at the office. I find this agenda on my smartphone. I then created a "family" agenda on the smartphone, I also find it on the PC at the office.
My documents safely accessible at the café

I'm in an Internet cafe. In a secure way and without leaving the web browser, I have access to my office documents.
My online office suite with collaborative work

I find my Office documents on my Zaclys cloud and I can edit them directly online with OnlyOffice.
We can even modify them with several people simultaneously with the colleagues to whom I give access to the files!
The documents synchronized on my different devices are updated and I also benefit from an additional safety net with automatic backups from the Zaclys cloud.
My to-do lists and pro projects managed à la carte

With the Deck application for Nextcloud, I organize my task lists by creating a map per task.
I created 3 piles: "To Do", "In Progress" and "Completed", so I can follow the progress of all my projects very simply by moving cards from one pile to the other. 
For professional projects, I can share list management with my colleagues, assign tasks to them and we can add our comments and attach files.
I visualize my ideas and projects thanks to Mind Mapping!

For me who remembers and understands better the things I visualize, MindMap has become my preferred tool to visualize and organize my projects, tasks, processes, ideas… everything 🙂
I'm no longer looking for my recipes

I found a great recipe while surfing on the desktop. I bookmark the page and find it on my netbook that I left in the kitchen.
My up-to-date contacts on my tablet and PC
I've added a contact in my address book on my tablet, it's also added on my laptop.
My chats, audio and video calls in confidence

Rather than a solution where the code is hidden, I prefer to use the free and open source Talk / Discussion for Nextcloud for my communications. Moreover Zaclys is a French and ethical hosting company, member of CHATONS, which does not base its business model on the exploitation and/or resale of its subscribers' data.
This tool, combined with all the possibilities of the Zaclys cloud, also makes it a powerful remote working solution.
Easy photo sharing with Grandma

I'm flipping through a photo album and I find a nice one I want to show Grandma. I put it in the "grandma" folder and she can see it right away from her PC.
I find my shopping list at the store

From my tablet, I add in the "shopping" task, the groceries I need to buy. I find this list on my smartphone when I'm at the store.
No more jigsaw puzzle of the date that suits everyone.

With the Poll application for Nextcloud, to organize a family party or a meeting, I propose some dates and I send a simple link for everyone to tick the dates where he or she will be available.
And it doesn't just work for dating. By replacing the dates by texts I can also create all the types of surveys I want on the same principle.
These are just a few examples. In short, you are free from the limitations of a single device, to access important data from your PC/tablet/smatrphone and from anywhere (at home, at friends' homes, in an Internet cafe …).
USER TESTIMONIALS
OF ZACLYS DEDICATED SERVERS
"What's the point of the cloud? How does the cloud work? How do I open an account and know my credentials? The cloud looks good but how do I use it? Can I get my own server?"
1. The Cloud, what's it for?
Have the Cloud service you can for example :
Keep and backup

 

your important files by dropping them from your web browser: just log in to the web interface and drag and drop them to your browser …
Access your files from anywhere

 

with a simple web browser: drop off a document from home and access it later from another computer, a web browser is all you need! Do the same with your contacts, diaries, etc.
Share your files

 

with confidence: you can share a file, a folder, a calendar … with one or more friends in just a few clicks!
Collaborative: your friends can also work with you, consult and/or modify your files uploaded to your Cloud space from their home, if you give them the right to do so. You can send them a link by email to join your shared folder, view and upload documents.
Office online: you can even modify your documents (Word, text, html, etc) directly from a web browser (this requires you and your guests to open an account with Zaclys)
But you can also easily

 

synchronize

 

your documents, images, music, calendars, contacts and bookmarks between all your devices (requires the installation of a synchronization program on your computer). You remain in control of the tool: you can, for example, synchronize only one folder on your computer: place a file in this folder and it will be automatically copied to your Zaclys cloud space. Connect to the cloud web interface from a friend's house: you will find this file. Modify it from his home, when you return home it will be automatically updated on your computer!
The Cloud is mainly used to access one's data from several places or machines (fixed PC, laptop, tablet, smartphone, PC), this is called synchronization (and not remote access, we will see this nuance later). The two main types of data that one is led to want to synchronize are :
Media: photos, videos, music, various documents (text, spreadsheet, PDF, …)
Personal data: diaries (or calendars), contacts, web bookmarks (or favorites), tasks.
2. The Cloud, how does it work?
The fundamental notion of the Cloud is synchronization, which is different from remote access :
With remote access, your data is on a main PC (in the case of a local network) or on a server (in the case of data accessible from anywhere). In this case, the data are in one place, and can be accessed (and worked on) remotely.
Examples of remote access: network player, webdav player, intranet, internet.
With a synchronization, your data is on all your synchronized devices and on a server, the latter allowing precisely the synchronization, the sending of the data so that they are copied on each of your devices.
In this case, your data is in multiple locations, and is accessed (and worked on) locally.
In both cases, you can access your data from anywhere. But the advantages of the Cloud are as follows:
We work locally, so everything is faster.
As the data is stored in several locations, security is enhanced in case of hardware problems.
3. How do I open an account and know my login details?
If not, create your account on our site, you will be able to choose whether or not to join the association. The capacity of your Cloud is 1Go for non-members, 5Go for "Silver" accounts, and 10Go for "Gold" accounts, afterwards you will be able to add additional space if needed.
To activate and set up your Cloud account, to know your login details or to add extra space, log on to our main site and go to the "Myprofile" section (also accessible from the "My account" menu), then to the Cloud tab, and let yourself be guided …
Note: it is recommended to use a different password for your Cloud account (this is always better for security reasons).
4. The Cloud sounds great, but how do I use it?
To do things in a methodical way, let's take a look at the different elements of the cloud and explain how to use it in the simplest possible way.
Synchronization of my data (photos, videos, music, documents)
For this particular point, you can use a synchronization client. This client will ensure that your files are copied to all your synchronized devices. In addition, any modification (addition, deletion, change) of a file will be followed by its automatic update on the other devices.
The OwnCloud and Nextcloud synchronization clients are available free of charge for Windows, Mac and Linux. Clients for Android and iOS are available on Google Play and on the App Store:https: //owncloud.org/install/ and https://nextcloud.com/install/.
And to help you, here is a step-by-step tutorial:
Installation and configuration of the ownCloud client on PC
Installation and configuration of the ownCloud client on smartphone
Synchronization of my personal data (calendars, contacts, tasks)
For this type of synchronization, simply configure your email/calendar software.
Tutorial to configure Thunderbird/Lightning
Tutorial to configure Kmail/Kontact
Tutorial for synchronizing Thunderbird contacts (Inverse Sogo Connector)
Tutorial for synchronizing Thunderbird contacts (Cardbook)
FileLink Owncloud Tutorial for ThunderBird
Tutorial for synchronizing the calendar with a Jolla smartphone under Sailfish OS
Tutorial for calendar and contacts synchronization under Android (with DavDroid)
Tutorial for synchronizing calendar and contacts under iOS (iphone, ipad)
Tutorial for synchronizing calendar and contacts under OSX (Mac)
Synchronizing my bookmarks (or bookmarks)
Tutorial for synchronization with Firefox
Tutorial for synchronization with Chrome/Chromium
Managing my data via the web interface
If you use a PC or tablet away from home, or don't want to install client software, you can do almost everything online. To do so, simply log into your account using your web browser (Firefox, Safari, Chrome or Internet Explorer) at this address: https: //webcloud.zaclys.com.
Tutorial for using the ownCloud web interface
From the file explorer or used as a usb key (webdav and davfs) :
Tutorial your owncloud online storage with WebDav and DavFS
Backing up your files under Linux
Professional use
https://cloud.zaclys.com/Le-cloud-a-quoi-ca-sert-exemple-dutilisation-du-service-ownCloud-pour-travailler-a-distance-association-petite-entreprise-clubs-teletravail-etc,p167,455
You can test ownCloud and Nextcloud at the Zaclys mother with the demo user account (user: test, password: test) by following this link
https://ocdemo.zaclys.com (for ownCloud)
https://ncdemo.zaclys.com (for Nextcloud)
Attention, the demo servers are reset every night.
5. Need your own cloud server?
The classic cloud offer isn't enough for you? You need to manage your own user community and be able to administer your ownCloud or Nextcloud server? You can have a server ready to use at the Zaclys mother company (SSL certificate and fixed IP included).
The Zaclys mother wants to promote the use of free software and alternative services hosted in France, that's why with this offer you can discover and use this solution at a lower cost, whether you are a club, an association, a school or even a company!
Managed: we take care of updates, monitoring and backups.
Scalable: if needed we can add resources (memory, cpu, disk space…) in a few seconds without interruption of service (see "more information" below).
Dedicated: the linux server that hosts your ownCloud or Nextcloud instance is dedicated only to your use, you are alone on it, with very comfortable and scalable cpu ram resources and disk space.
You do and install what you want on your ownCloud or Nextcloud: you are administrator without restriction. We take care of the rest.
Test it: you can test your ownCloud or Nextcloud dedicated at the Zaclys mother with the demo administrator account (login/password : admin/admin) by following these links :
PS: the demo servers are reset every night!
Feedback: some feedback on our forum: http: //forum.zaclys.com/viewtopic.php?f=18&t=70
Subscribe: to subscribe to the dedicated Cloud server offer, you just have to make a donation to the association of 330€ / year.
And to subscribe to the MINI Dedicated Cloud Server offer, all you have to do is make a donation of 220€ / year.
For communities and administrations :
1. We send you a quote with our RIB for an annual payment.
2. You send us back your order form signed (if possible by mail to save time)
3. We set up your dedicated server, we deliver you the access codes and the invoice
4. You can trigger the payment
Subscribe to the Nextcloud Dedicated Server offer
Subscribe to the Nextcloud Dedicated Mini Server offer
Options / evolutions WITHOUT SERVICE CUT :
RAM Memory +2Gb : +5€ /month or +50€ /year

CPU +2 vcore: +5€ /month or +50€ /year

HD disk space +100Gb useful (and +250Gb of automatic backups) : +10€/month or +100€/year ( -10% from 1TB )

Mini Dedicated Server with OnlyOffice 20 simultaneous accesses: +270€/year

 

(3 vcores cpu, 2 GB ram, 50 GB HD)
Beyond 20 accesses you need to subscribe a paying license from the OnlyOffice editor, license that can be used on our server, the price is 935 eHT per pack of 50 simultaneous accesses(https://www.onlyoffice.com/fr/integration-edition-prices.aspx).
PS : for these options / custom evolutions, please contact us before making the payment so that the Zaclys mother activates the right options 
Technical details :
RAM : 4Gb expandable on dedicated, a quarter on mini-dedicated

CPU: 6 vcores 3Ghz expandable on dedicated, one third on mini dedicated

HD : 100Gb expandable on

 

triple

 

disks + 250Gb reserved for backups (automated), half on dedicated mini-disks

1 public ip v4 address (you can use your domain name on it or we can lend you a .zaclys.net address!)

Official ssl certificate included

Nextcloud latest version (or owncloud latest version)

mysql database

Linux centos 8 or later

Daily backups (weekly for dedicated minis)

Server entirely dedicated to your instance (you can activate the apps of your choice, drop files of several GB etc)

Installed and managed by us, ready to use, upgradeable

Payable in advance by PayPal, cheque or bank transfer.
Receipt on request. Possibility to pay by monthly transfer: contact us.
Possibility of quotation / order / invoice for collectivities.
6. Are the Zaclys mother's cloud servers secure?
7. Do you have a problem, a question, or just want to talk about it?
CLOUD SOLUTIONS ADAPTED TO YOUR NEEDS
INDIVIDUALS, INSTITUTIONS, COMMUNITIES, COMPANIES AND ASSOCIATIONS
Discount for education and humanitarian work: if your organisation works in the field of education or humanitarian work, you benefit from a 
20% discount on our dedicated servers or a free "personal" subscription .