MindMap
VISUALIZE YOUR IDEAS! CARTOGRAPH YOUR THOUGHTS!
FREE YOUR CREATIVITY! KEEP AN EYE ON YOUR PROJECTS!
MindMap, to visually organize your ideas. To your brainstormings!
A mind map (MindMap) is a simple, fast and powerful way to visually represent your ideas, communicate them and share your thoughts.
The ideal tool for brainstorming, note-taking in meetings or project management/planning.
The principle is as simple as the implementation: you start from a central idea and connect all the reflections that flow from it. To these new ideas, you connect others and repeat as many times as necessary. One idea can be linked to many.
You can give colors, fonts, styles to nodes and connections and even a theme to the whole. But also incorporate links, notes and images, show or hide branches, etc…
For project management, you can set priorities and indicate the status of each phase, reorganize, …
Finally, export and share all or part of the resulting diagram to communicate and present your ideas, concepts and projects clearly, simply and at a glance.
Application Source Page: Mind Map – Applications – App Store – Nextcloud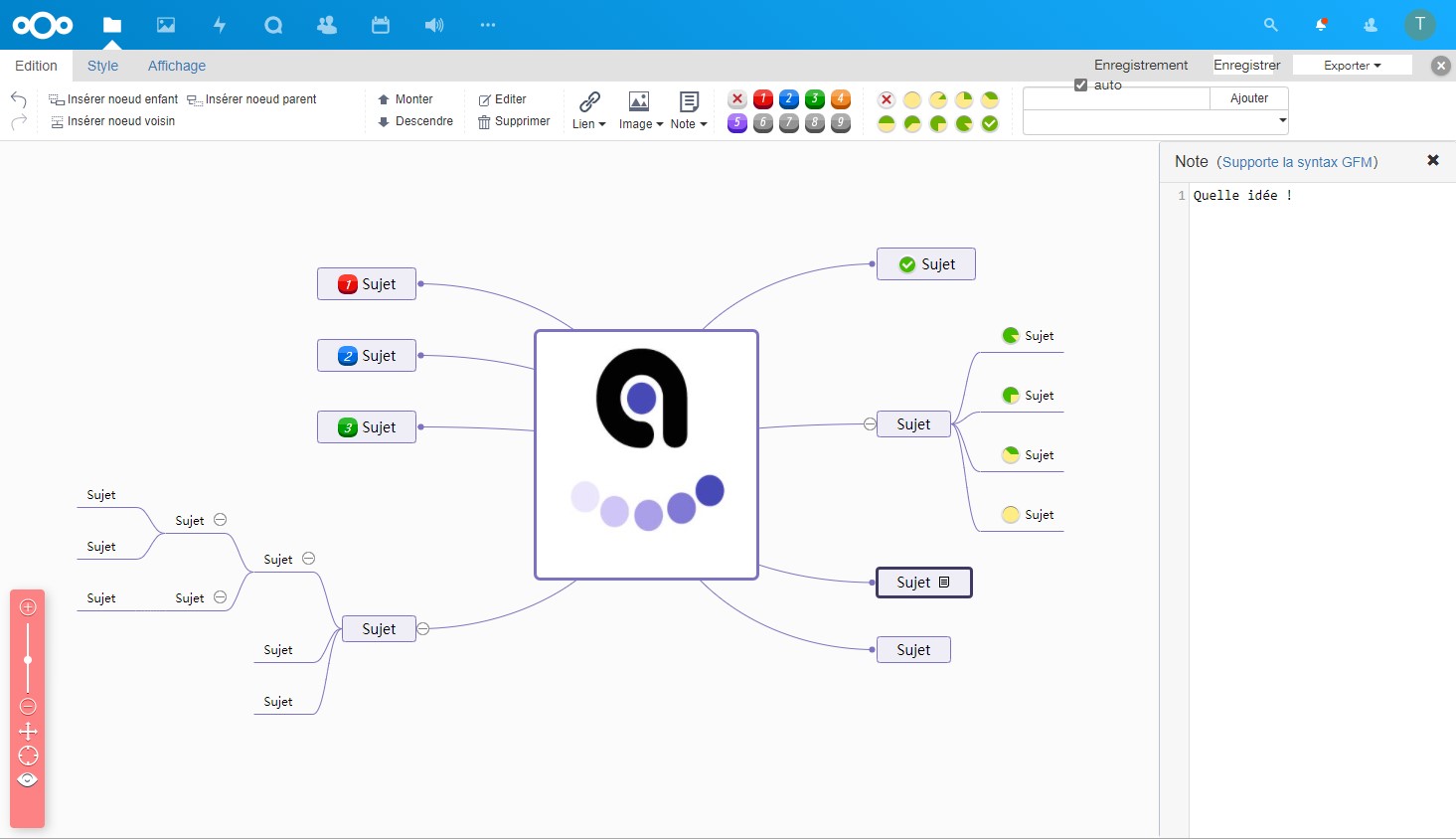 I recently rediscovered this App, after having briefly tested it a while ago (and not having been seduced, probably because I wasn't ready for it at that time)

The version I tested is just gorgeous! (on desktop machine and big screen). The input is hyper simplified compared to the few other tools I tested, and the display is very very well done (exploring the display modes proposed in the corresponding tab, including for presentation, was a great experience and, frankly, this app contributed greatly to convince me to switch to these tools!

Among the features of this app :

Each node can be associated with resources (note in MarkDown format, image, url, …)
It can also have a number of attributes, (like a priority, for example…),
Creating an intermediate node, a child, a neighbor, is disconcertingly simple
To try, adopt, and a project to encourage! Congratulations to the developer(s) !
CLOUD? WHAT FOR?
With the Cloud service you can of course use the Deck application presented on this page, but also and above all you can keep and backup yourimportant files ,access your files, contacts, calendars and much more from anywhere,shareyour files incomplete confidence,work together on the same office document, folder or projectand synchronize everything to find it on the devices of your choice.
Ready to climb on your little cloud?