Talk
CHAT, VIDEO AND AUDIOCONFERENCING
Talk is a chat, video and audioconferencing tool (in

t

egrated with Nextcloud)

The free and open source equivalent of Skype, Whatsapp or Messenger in your Zaclys cloud, so it can be accessed directly on your browser without the need to install software (based on WebRTC).
💬

built-in Chat: T

alk makes it easy to send messages and share files from your cloud. You can mention (tagging) other participants, as with other applications.

👥 Priv

a

te, Group, Public and Password-Protected Calls:

Simply invite someone, an entire group, or send a public link to invite a video call.

💻

Screen Sharing:: Share

your screen with your call participants.

 

Just use Firefox version 52 (or newer), the latest Edge or Chrome 49 (or newer) with this Ch

r

ome extensio

n

.

🚀

Integration with other Nextcloud apps such

a

s Files, Contacts and Deck.

 

More to come.
This app works well up to 4 users but no benefit in general, and in any case if a person uses a weak internet connection it must avoid activating the video. That said, we regularly install updates that improve its use.
This app is available on all our dedicated servers, and for our shared cloud (Gold subscription) you will find here the list of our servers that have this app: benefits

App's source page: https://apps.nextcloud.com/apps/spreed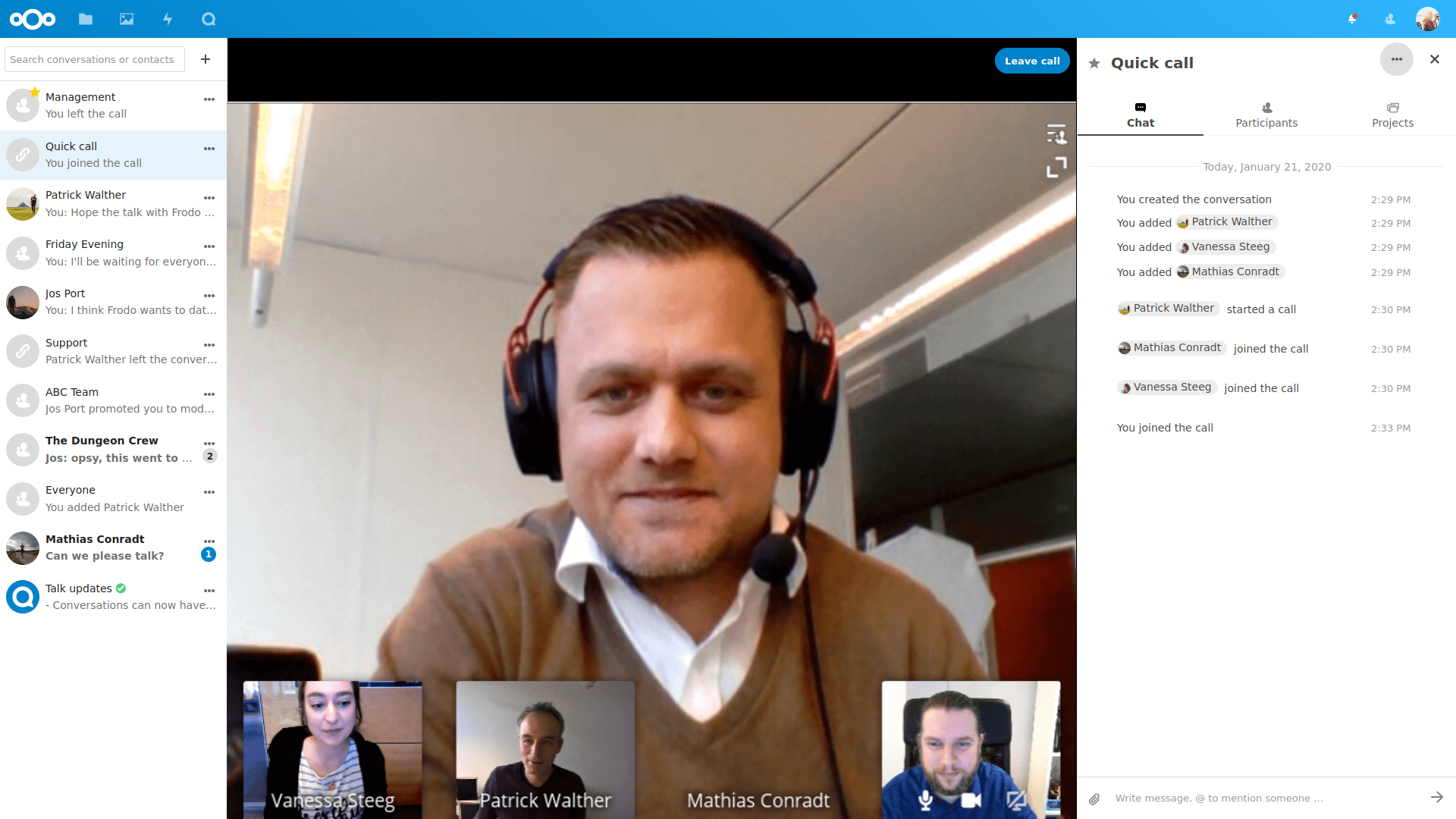 Cloud? WHY WOULD YOU DO THAT?
With the cloud service you can of course use the Talk app presented on this page but also and above all keep and save your important files, access your files, contacts, calendars and more, share your files with confidence, work together on the same office document, folder or project and synchronize it all to find it on the devices of your choice.
Ready to climb on your little cloud?