TEXT
LIGHTWEIGHT, DISTRACTION-FREE, COLLABORATIVE TEXT EDITOR
INTEGRATED AS STANDARD IN NEXTCLOUD
Collaborative note taking in meetings, 
 

(integrated with Nextcloud)
You need to take meeting notes with your colleagues. You want to quickly jot down some ideas. You write a new proposal during a team call. A few reasons why you might need a lightweight, distraction-free text editor that lets you edit text with multiple users.
Of course, you know that we also offer OnlyOffice, the complete collaborative office solution, but if the basic formatting functions (bold, headers, lists and images) combined with the big plus of the collaborative tools, are enough for you, then Text integrated as standard in Nextcloud will suit you perfectly!
 

Simple Design:

 

 Advanced, distraction-free shaping.

 

Bold, italic, strikethrough, titles, sorted / unsorted lists, checklists, quotes, code, and links.

 

Images:

 

integration of images from the cloud.

 

Data under your control!

 

Your projects and ideas remain private on a French cloud, based on respect for data and people.

 

Collaborative editing!

 

 Lightweight, simple and distraction-free tool, therefore ideal for working with several people at the same time on the same document!

 

With comments, sharing, chat, document versions and tags.
This app is available on all of our cloud servers.


Application source page:  Nextcloud introduces collaborative rich text editor – Nextcloud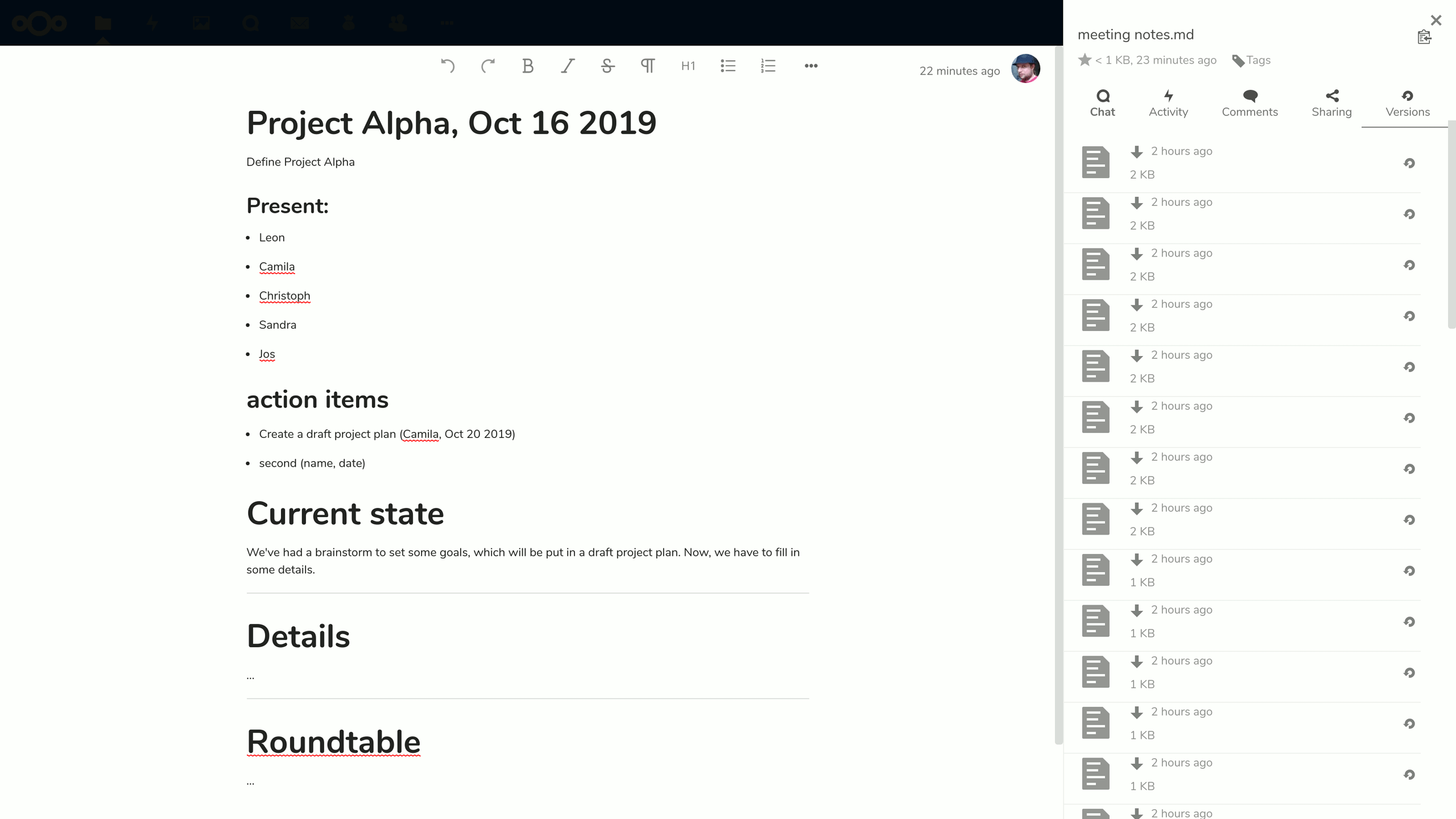 The TEXT application, an integrated and lightweight "notepad" (not a complete OnlyOffice) allows you to work collaboratively on a simple document.
In collaboration, that is to say simultaneously with several from a simple browser!
Just create a New text document …
CLOUD ? WHAT FOR?
With the Cloud service you can of course use the Text application presented on this page but also and above all  keep and save your important files, access your files, contacts, calendars and more from anywhere , share your files with complete confidence. trust, work together on the same office document, folder or project and synchronize everything to find it on the devices of your choice. 
Test Text and the demo cloud
You can test Text and the Zaclys Cloud with the demo user account (user: test, password: test) Please note, the demo servers are reset every night. 
Ready to climb on your little cloud?