zpack
Your users – 1 cloud server
1 dedicated Mail server
1 interface to administer everything!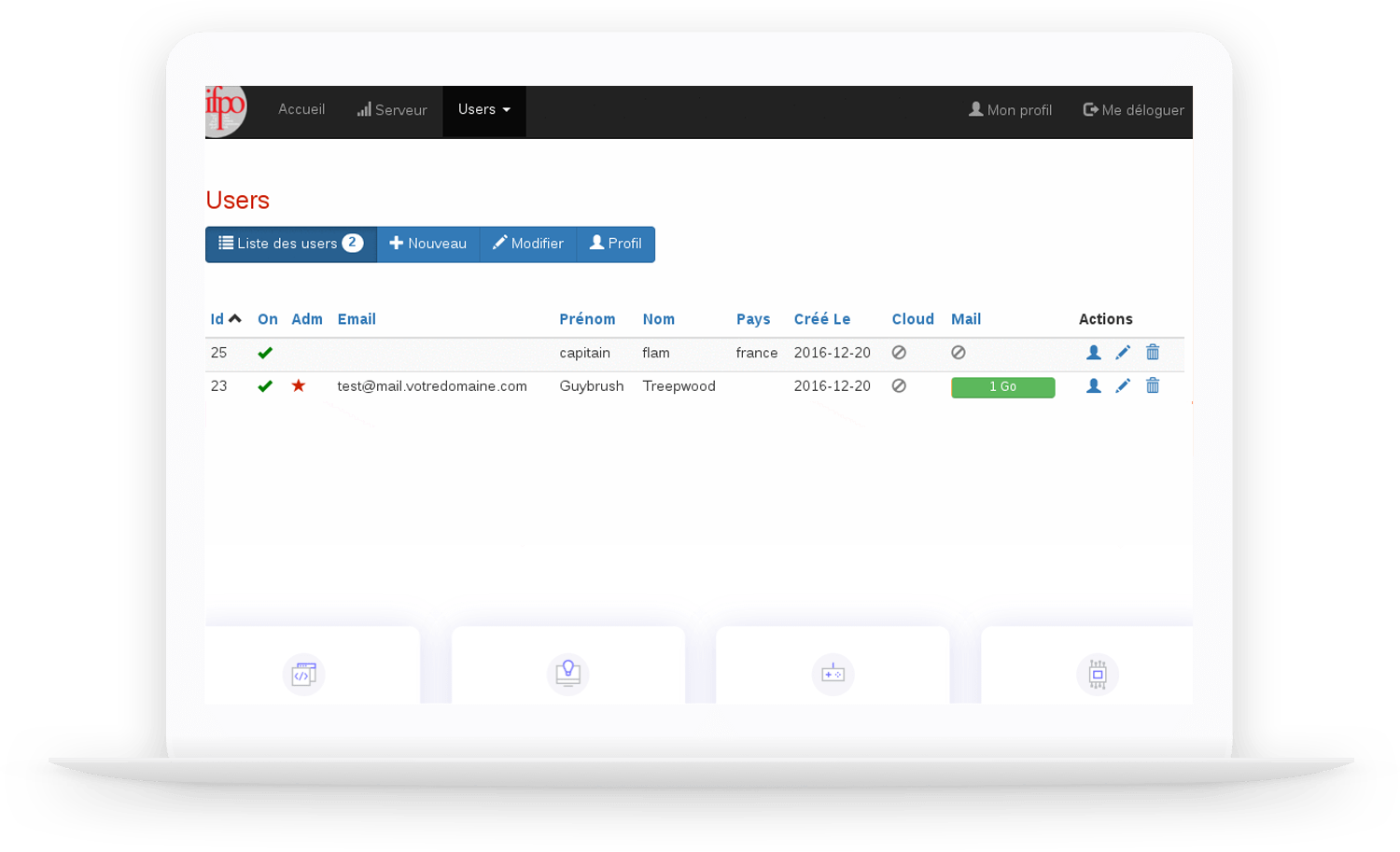 ZPack, manage your community
Need your own server? Isn't the classic cloud and email offer enough for you? Need to manage your own user community? You can have a Nextcloud server and a ready-to-use email server at The Zaclys family(including SSL and IP!).
Zaclys wants to promote the use of free software and alternative and hosted services in France, which is why with this offer you can discover and use these services at a lower cost, whether you are a club, an association, a school or even a company! 
You can centrally manage your user accounts: create accounts, turn on/off their cloud space and mailbox for everyone, change passwords, change disk space quotas, monitor your users' disk space from the same dashboard, and add space to one or the other in 2 clicks… WITHOUT INFORMATIC CONNAISSANCE, from an ergonomic and intuitive interface called the manager.
what? How many? How?
Everything is accessible on your own domain name: email addresses and webmail, cloud and webcloud service, manager … and your mail server is configured in the rules of the art so that your emails are not blocked as "undesirable" (full SPF and DKIM settings).
The ZPack was developed in partnership with IFPO (CNRS).   
The Zpack is made up of:
a dedicated Nextcloud server 
a dedicated full mail server – dedicated Roundcube webmail 
a dedicated manager
a dedicated domain name (provided it is free)
4 dedicated IP addresses
SSL A certificates included
SPF, DKIM and reverse DNS configuration included 
installation, configuration, firewall, backups and info-management by us
The servers are scalable: it is possible at any time to add disk space, CPU power, memory, bandwidth, without service cuts.
Example if you choose the domain name votredomaine.com:
Nextcloud will be available on cloud.votredomaine.com
your full email server with a Roundcube webmail at mail.votredomaine.com
a dedicated manager on manager.votredomaine.com 
✍ To see and learn about it, download your Administrator Notice (PDF):htt
ps://album.zaclys.com/download.php?doc_id=4208473
Price 
ZPack 
€96/month (or

$1,

0

60,960/year)

– €90

installation fee offered
8 vcores, 8GB ram, dedicated servers – manager
450GB of space (extendable) on tripled di

scs – 1TB of space for backups (automated backup

)

 
 
Zpack mini 
€36/month

(

or

€396,360/year) – €90 installation fee (once)
2 vcores, 2GB ram, dedicated servers – manager
100GB of space (extendable) on tripled

discs – 250GB of backup space (automated backup

)

 
Options and changes (adjust the capabilities of your services, at any time and without a service cut):
Useful disk space -50GB (and 125GB of automatic backups): $50/year or $5/month
Useful disk space -100GB (and 250GB of automatic backups): $100/year or $10/month 
CPU (processor) – 2 vcores: $50/year or $5/month
RAM (memory) -2GB: $50/year or $5/month
The Manager includes basic with 1 vcore and 1GB: 50 euros per year
The domain name included basic (in .com .eu or .net): 10 euros per year 
Terms and conditions 
Annual commitment, you are free to continue or stop on the anniversary date, you remain the exclusive owner of all your data. 
Settlement to order by transfer, check or PayPal.  Monthly payment (contact us).
Opportunity to quote/order/invoice (for public authorities for example).
zpack
Your users – 1 cloud server
1 dedicated Mail server
1 interface to administer everything!